So, with keto chile rellanos, keto carnitas taquitos (and tacos) and keto sparkling margaritas, the one other Mexican-inspired thing we cook in regular rotation missing from Tasty Noms is keto green chile chicken enchiladas.
While the blog entry for the carnitas taquitos is longer, and technically, it takes longer to make, that's because the carnitas themselves, while insanely easy to make, do take twelve hours or so. The reason the blog is longer is because there's a huge amount of variation in those recipes; different salsas and cheese combinations, etc.
This is long because there's a lot of steps. But it's worth all of them!
The key is the sauce. For a few reasons. One, is, it's delicious. Two is that, when using low-carb tortillas and baking, you need something amazing to make them not taste like cardboard and hate. And for that, to really do it right, you need roasted hatch chiles. However, those are often hard to come by; poblanos will work in a pinch, but it's not quite as good.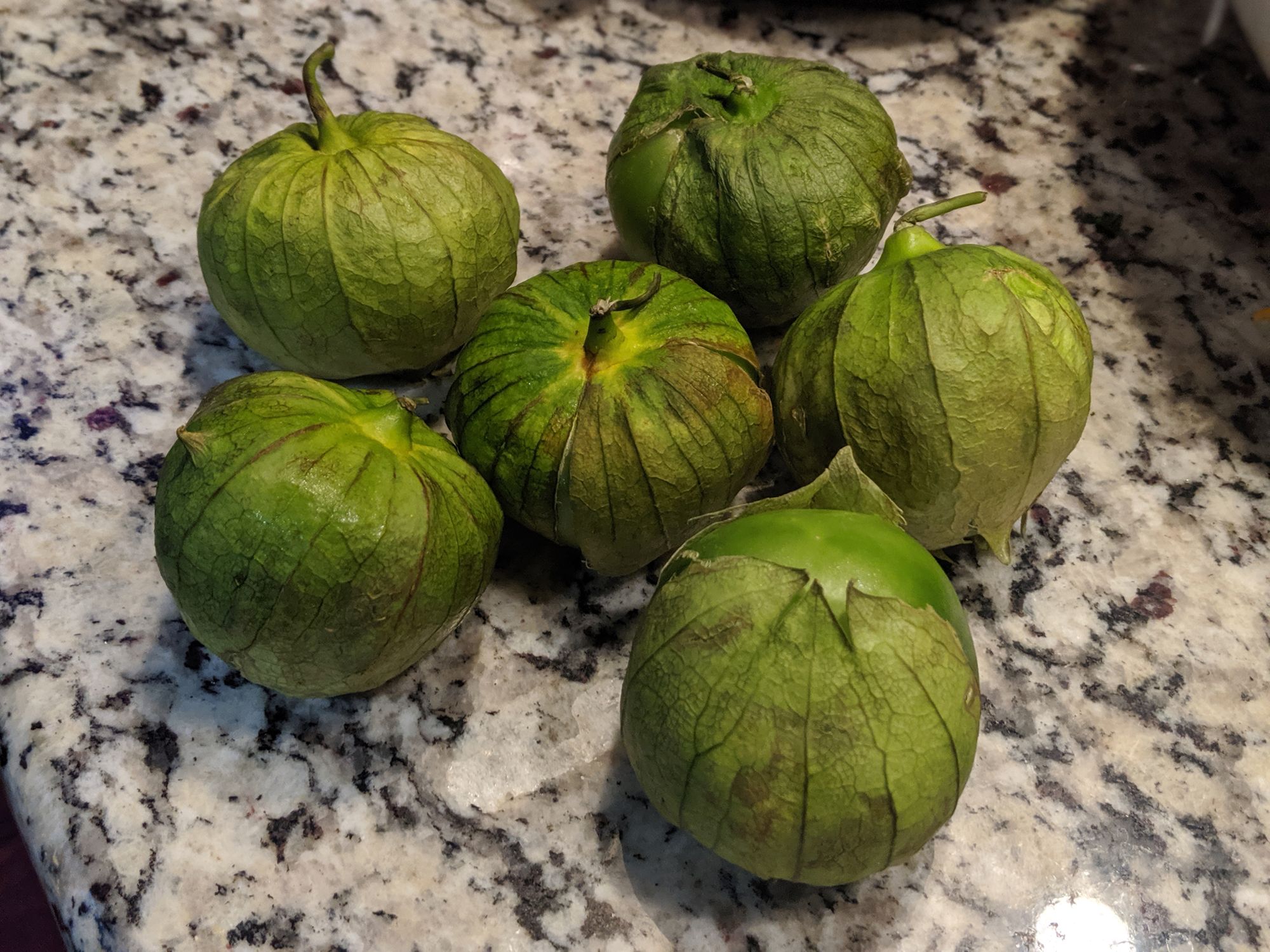 In a large stockpot, boil the chicken until you're reasonably sure the center of the chicken breasts are 165° F. I've recently moved on from boiling to using the instant pot so as to keep the chicken juicier than using just boiling.
While the chicken is boiling, after roasting the chiles and removing the skins, into the blender they go with tomatillos, minced garlic, cilantro and a green onion. Blend it up, but unlike the very similar green dipping salsa for the carnitas taquitos, you don't heat it up at this point. Just leave at room temperature.
When the chicken is done, toss it into the KitchenAid with a paddle and some adobo seasoning. Let it fly for a while until the chicken is thoroughly shredded.
The other key ingredient? Yellow onion properly carmelized. We buy outrageously strong onions; the kind that when you are slicing them, you're crying so much it's like you just watched The Notebook and The Time Traveler's Wife (DAMN YOU, RACHEL MCADAMS!) But then, you slowly fry them in avocado oil until they carmelize and you have to force yourself not to eat them all with a spoon.
I make sure I have two bowls of cheese; one is a 2:1 mix of shredded Mexican four cheese and shredded Cotija. The other is just straight shredded Cotija. Then the bowl of the shredded chicken and the onions, cooled down to at least a temperature where you can comfortably handle them.
The tortilla selection is important. Here in Texas, we're partial to H-E-B's carb-sense low-carb flour tortillas.
The assembly is super easy; you just drag both sides of the tortilla through some sauce to thinly cover, then fill a line of chicken, top with the five cheese blend, a few onions, and drizzle more sauce, then roll up the tortilla and pack them into a baking dish. I am partial to glass; with those small tortillas, it's I can get six of them into a 2.75 qt Pyrex.
Once packed with your enchiladas, pour more sauce atop, then a liberal amount of Cotija cheese.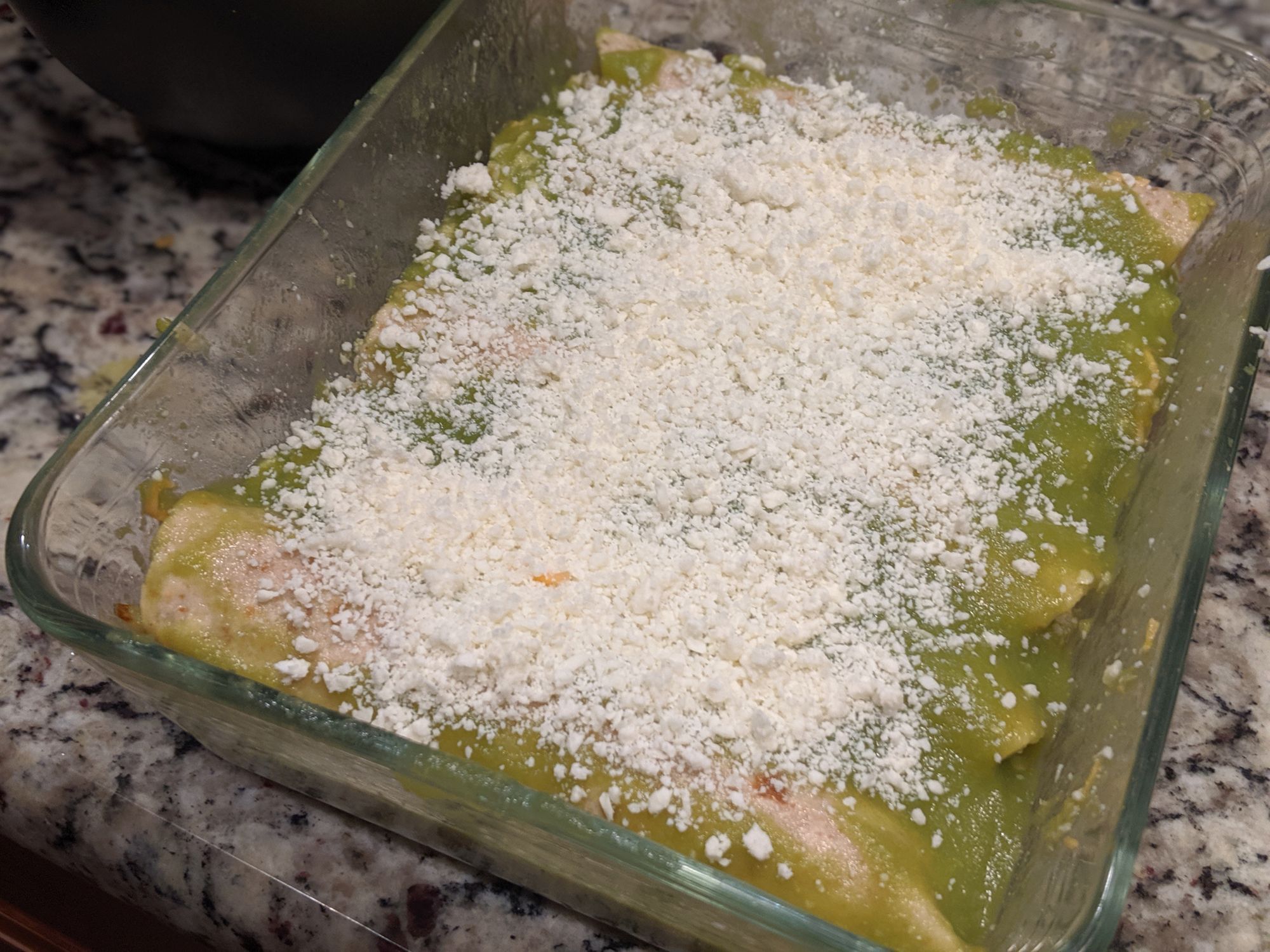 Bake, covered with aluminum foil at 400° F for 25 minutes, then remove the foil and broil at 525° F for five minutes.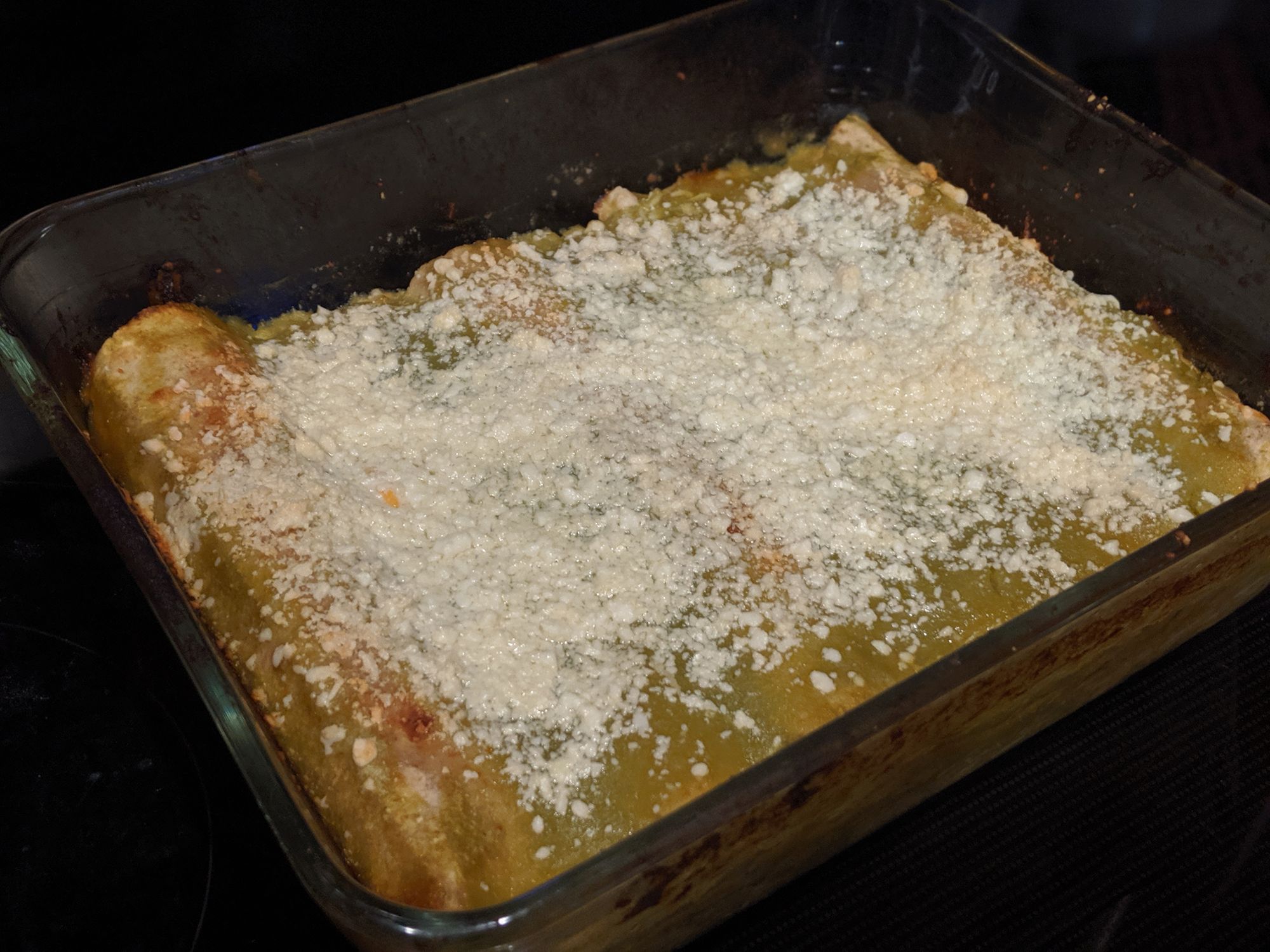 Dish up, top with sour cream and fresh cilantro.
---
Ingredients:
6x low-carb tortillas
1x medium-to-large chicken breasts (~12 oz)
1/2 large yellow onion
8x tomatillos
2-4 hatch chiles (1-2 poblanos as a suitable substitute)
~6 sprigs cilantro
1 green onion
2+ tbsp minced garlic
~8 oz shredded Mexican four cheese
~8 oz shredded Cotija cheese
~2 tbsp avocado oil
~2 tsp adobo seasoning
OPTIONAL: Sour cream
OPTIONAL: Additional fresh cilantro
Directions:
Dice onion and saute in avocado oil in frying pan on medium heat.
Place chicken breasts fully covered in water in stockpot and boil. Alternatively, use an instant pot and keep the chicken even juicier!
Roast chiles until blackened.
De-skin chiles.
Place garlic, cilantro, tomatillos, chiles, green onion in blender and blend until smooth.
Shred chicken and mix adobo seasoning into it while shredding.
Place all the Mexican four cheese and approximately half the Cotija in one bowl, stirring. Leave the other Cotija in a second bowl.
Pour sauce in baking dish and line sides.
Pour small amount of sauce on a plate, run both sides of a tortilla through it.
Place ~2 oz of chicken along a line, then top with liberal amount of five cheese blend, small amount of onions and a few tbsp of sauce.
Roll up tortilla as tightly as feasible.
Place into baking dish.
Repeat steps 9-12 five more times.
Top all enchiladas with sauce and the 4 oz of remaining Cotija.
Cover with aluminum foil and bake at 400° F for 25 minutes.
Remove foil, broil at 525° F for five minutes.
Remove from oven, let sit for two minutes.
Dish up!
Optional: top with sour cream and fresh cilantro
Almost optional: serve with keto sparkling margaritas!